Every piece of custom jewelry is precious and should be kept with tender, loving care. Even the most standard jewelry needs basic care, and if it is a custom design, all the more reason you should pay special attention to keep it as dazzling as it was when you first unboxed it. Your precious custom necklace can get tarnished otherwise. These simple tips will help ensure that your custom necklaces remain as good as new for years to come.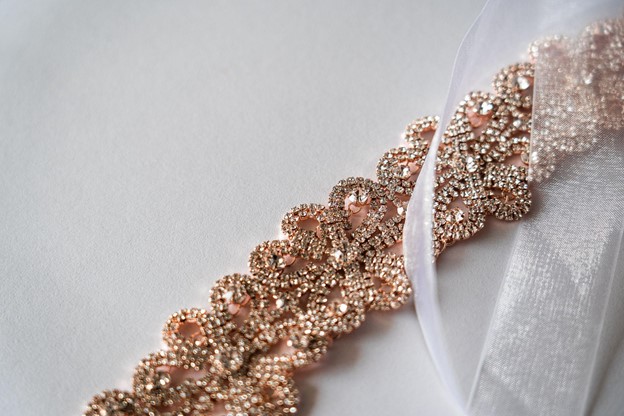 1. Proper Storing
Storing your jewelry properly will go a long way in keeping them looking flawlessly perfect. Necklaces tend to get tangled with other items and can sustain scratches if stored together. So it is best to store each necklace a separate jewelry box with a soft, cushioned felt or fabric lining. Alternatively, you can also wrap each necklace individually in soft tissue paper.
2. Gentle Cleaning
Clean your custom necklaces regularly. Soak them in water with a few drops of mild liquid soap for a few hours, every few days. Remove the necklace from the cleaning solution and brush it with a soft, clean toothbrush to remove any leftover dirt, especially at the back of diamonds and other gems, as this is the area that accumulates maximum oil and dirt.
However, note that delicately set jewelry may not withstand the scrubbing or harsh chemicals (if any) present in soaps. Therefore, it is vital to be gentle while cleaning your jewelry. Simply rinse the necklace with water and pat dry with a soft cloth.
Also, refrain from using harmful solutions. Never use chlorine or abrasives when cleaning diamond necklaces, as they damage some metals used for setting diamond jewelry. They can also cause the prongs to loosen and, in some cases, also cause the metal to dissipate completely.
3. Minimize Exposure to Personal Products
Many beauty products and some cosmetics, such as lotions and hairspray, have chemicals that can harm your precious custom necklaces. To limit the exposure, put on your necklace after doing your makeup and hair.
Your soaps and shampoos may not be suitable for your necklaces, since they also have chemicals. Lathering too much in the shower while wearing your custom necklace can dull the sheen of your necklace and diminish its brilliant shine.
4. Keep them off Water
The chlorine in pools and jacuzzis can discolor your jewelry if exposed for too long. So it's best to leave the necklace behind when you take a dip. It's also best to avoid wearing delicate custom jewelry when you're doing rough work or sweating it out at the gym, as sweat and too much activity can damage fragile necklaces.
5. Regular Professional Maintenance
It's recommended you see your jeweler at least once a year and have them check your custom necklace for loose prongs and worn mountings. They usually also polish them and give them a professional shine job.
No matter how well-crafted your custom necklace is, it will eventually get tarnished if not cared for properly. These mindful steps can help keep your neckpiece in excellent condition for a lifetime.
At Woodard's Diamonds & Design, we are dedicated to crafting beautiful custom necklaces, and many other exceptionally fine jewelry pieces that are personalized and designed to meet your unique taste and requirements. If you need help maintaining or repairing your custom necklace, feel free to contact us through our website or by calling at 931-454-9383.
Stop in anytime at Woodard's Diamond & Design for a complimentary jewelry check and clean. We will leave your jewelry sparkling!